Last August, Montréal's BrainHack School welcomed students for an intensive four‑week neuroinformatics program designed around project‑based learning. Participants were for the most part neuroscience, software engineering, and computer science graduates looking to develop high‑level skills by working on a project of their choice. The program also counted toward participants' university course credits.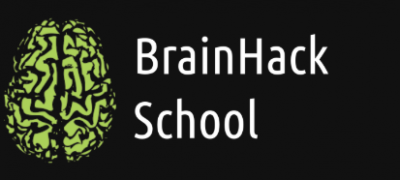 New material was presented each week. The first week was a boot camp-style course, in which participants were immersed in data science concepts and methods, Python programming, and a number of tools to help them become more adept at neuroinformatics. After this introduction to general data analysis tools, the second week focused on more advanced concepts in for the processing of neuroimaging and brain activity data. Armed with this knowledge, students took the first steps on their projects during dedicated work periods. The third week was all about science communication, and students produced videos explaining their projects to the general public in laymen's terms. In the fourth and last week, students made final tweaks to their projects, presented the finished version to their peers and prepared a report.
BrainHack School is an event in its own right, but it is also part of the BrainHack Global movement, which itself was inspired by hackathons: intense computer programming events in which teams face off against each other in complex challenges. Rather than focusing on the competitive aspect, however, Dr. Cameron Craddock (U Austin, Texas) and his fellow BrainHack founders want to emphasize the collaboration and learning that can happen when passionate people come together for this type of event. It was in this spirit that professors Pierre Bellec from the Université de Montréal (Psychology), Jean‑Baptiste Poline from McGill University (Neurology and Neurosurgery), Nikola Stikov from École Polytechnique (Electrical Engineering) and Tristan Glatard from Concordia University (Computer Science and Software Engineering) worked together to create BrainHack School. The four researchers took turns welcoming students to their campus for a week and sharing their knowledge in several fields relevant to neuroinformatics. A number of renowned lecturers were also invited in order to enrich and broaden the scope of the curriculum. In sum, this roster of specialists from a variety of fields was a kind of travelling methodology classroom that students could benefit from as they encountered challenges during the periods set aside for hands‑on work.
BrainHack School participants working together on their projects.
            Although BrainHack School participants could earn university credits, the similarities with a typical class end there. According to Pierre Bellec, this educational program is the first of its kind. "I don't know of any other course of this duration that uses a project‑based format and is delivered across four universities," he said. "I'm fairly certain that nothing similar exists in our field." Two pilot versions of the course were rolled out in the past few years, which served to gradually improve its structure, in a bid to facilitate knowledge integration and help students take on larger projects. Bellec explained that what set this year's program apart from previous editions was the Week 1 boot camp: "I realized last year that we were asking students to work on a project, but they didn't know what they wanted to work on and which tools they wanted to explore. As a result, they had to define their project at the same time as they were learning about the tools, which was a source of anxiety. This year, the first week was like a menu [in that it showed students all the possibilities], which was definitely a big improvement." Bellec thinks only small changes will be needed ahead of next year's edition, the most significant of which will be to advertise the event a bit earlier, in order to be able to recruit the students best suited for the program and give them time to prepare.
Antoine (left) and Anne (right), working on their projects. 
            The effort that went into organizing the event definitely paid off: the students were very satisfied with the experience. Whatever their reasons for attending BrainHack School, the participants interviewed all agreed that their university offered nothing like it. Some chose to attend because they liked the idea of combining neuroscience and computer science, while others had more specific learning outcomes in mind. For example, Anne, who was finishing her master's in neuroscience, wanted to learn how to process cognitive neuroscience data using deep learning. François, who was nearing the end of his bachelor's degree in cognitive neuroscience, saw the program as an opportunity to learn advanced research methods in a format not available anywhere else. "I looked for a class like this throughout my entire bachelor's degree," he said. The unique learning environment was another aspect that was a hit with participants. Anne reported that the program's educational methods exceeded her expectations: "We were able to work on our own data, while at the same time benefiting from experts who were always available to answer our questions." Marcel, a Ph.D. student in computer engineering, pointed out that the experts weren't the only fonts of knowledge: "Each participant had a different background that brought something to the table." François noted that, admittedly, the students sometimes felt overwhelmed by the work, even experiencing "impostor syndrome," but that the supportive, attentive network of peers and teachers helped them get through these difficult moments. All the students interviewed, however, were confident that the skills they learned would be useful in their research and in other contexts as well: "Many businesses and start‑ups use the same collaborative tools," said François enthusiastically. Anne was just as excited: "I'll be able to completely revamp my resumé thanks to this class. A whole new world has opened up for me."
            BrainHack School's relevance for its target audience is undeniable. Although it might be tempting to put together an online course to reach as many students as possible, the revolutionary aspect of the school is inextricably linked to its in‑class format. Those who are interested in applying will therefore have to patiently await the next edition of the event—the researchers and students were very clear on that point.